Large-format printing
Using our Canon image PROGRAF iPF8000S you can print nearly any graphic file1 on media up to 42" in width. We always optimize your graphic placement on the paper to make the best use of the media and save you money!
Printing fees are just:
$12.00/ linear foot (12"x 42") for photobase low glare paper (only $3.14/ft 2)
$13.50/ linear foot for photorealistic high gloss paper (only $3.43/ft2)
$15.00/linear foot for outdoor vinyl ($4.00/ft 2)
You can upload your file for us to print. Click here to upload your file now!
Use the links to the right to for large-format printing instructions and hints.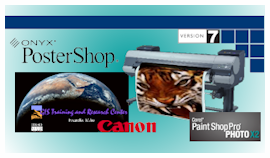 1- some file formats may require additional processing.